Exelsuper is the complete SMSF service, offering people the satisfaction of managing their own SMSF. At Exelsuper we have tailored two Fee and Service options for you to choose from depending on your needs and experience and of course your budget.
Exelsuper has the resources to manage all SMSF Records and Bookkeeping, Preparation and Lodgement of Annual Tax Returns with ATO, Annual Audit, Technical and Strategic Advice and Investment and Insurance Management all in one place.
A well managed SMSF will result in three things:
Improved tax outcomes for you and your fund

Well thought out estate plans to ensure the wealth you leave behind is a legacy that benefits your family the way you intended

Smart investments that are built using yourideas and talents that include a wide variety of options such as investment property, shares or term deposits.
Hand in hand with these great advantages is a set of ATO rules and obligations that a self managed super fund must comply with on an ongoing basis. Enjoy a stress free SMSF experience with Exelsuper managing these details.
The Exelsuper service includes: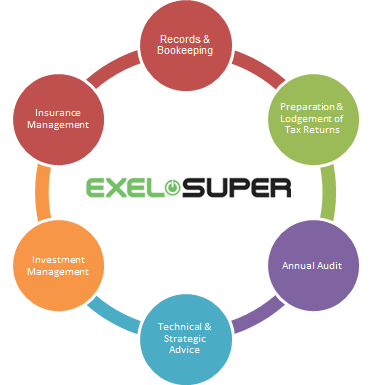 Exelsuper will from time to time require you to sign paperwork, authorise payments and transfers and of course make decisions regarding your fund investment strategy. It's that simple.
Exelsuper will guides you through the process, providing you with the right information to help you make sound investment choices and ensuring you meet all of your legal obligations and responsibilities.
You will be surprised at how simple SMSF really is with Exelsuper.